Event Budgeting for Technology
Emergent technologies are important to your attendees–but many of them might seem out of range when you're in the event budgeting phase. We spoke with vendors who cater to events of all sizes and budgets to help you understand what you can incorporate.
Budgeting for small events
Is money tight? More than 83% of Guidebook's event app users say it's difficult to fight for new tech tools while event budgeting, so you're not alone. But a small budget doesn't prevent you from using high-tech tools to increase attendee satisfaction, gather valuable data, and position yourself as tech-forward.
Audio/Visual
You don't need a big event budget to amplify sound, but you'll need to keep it simple. Rent serviceable monitors, a mixer, microphones and speakers for about $400/day from your local camera shop.
Projector and screen
Help your attendees feel connected by projecting a live feed of social media mentions, photos or news–without breaking the bank. If you can't snag a projector from your office, you can rent a decent one for $40/day.
Handheld tech
"If you're looking to give a presentation an interactive feel," says Ashton Arnold from Meeting Tomorrow, "rent enough iPads for each table to have one at the keynote speech." Meeting Tomorrow offers tech rentals for events of all sizes. According to Ashton, it's a low-cost way to push a presentation through to each table, and to allow for polling or other interactions.
Registration
A platform like Eventbrite gives you flexible tech registration at any budget–in fact, if your event is free the tool is, too.
Eventbrite's costs are based on ticket prices, helping them scale along with resources.
Mobile event app
Small event? You can build a fully working mobile event app for free, and give your attendees access to up-to-the-minute paperless schedules, maps, social media, networking and more. Get started now!
An in-the-middle event budget
At this level you can afford a solid version of the most effective tech tools. It means while you may not invest in things that are superfluous or 'just for show', you've invested in sound, visuals, registration and tech amenities to enrich your attendees' experience.
LCD video projectors
Your tech event budgeting can easily include projectors for showing presentations, pre-recorded video or live feeds from Twitter or a photo stream. Hire a technician to handle live-switching from different sources.
Why is this important? A video switching/scaling system is necessary for creating a seamless experience when different video sources haven't been created at the same resolution or speed, and a production technician will be responsible for using it correctly.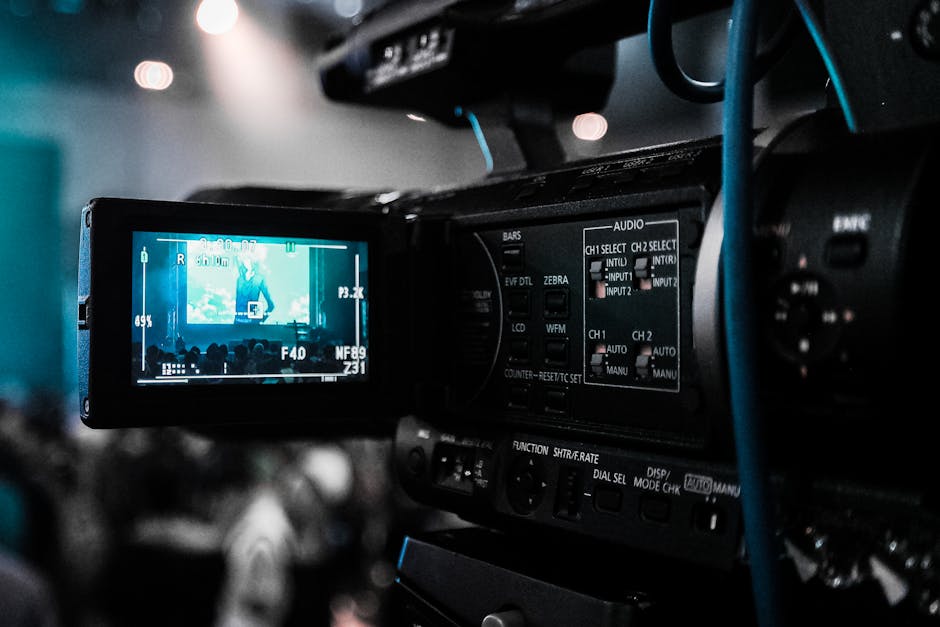 Single camera live recording/projection
If you're recording the keynote speech, action in the game room, or b-roll footage for a teaser video in
advance of the next event, you may choose to hire a videographer for some single-camera action. For anything that requires sound you'll need a microphone. If you're recording an amplified speech, your videographer will want to get a feed from the
house mixer for the cleanest sound or set up a separate microphone.
Whatever you choose, allocating event budget to hire a professional videographer is your best bet. There's a huge difference between video that's watchable and video that's… inexpert. It's kind of like how it's famously inadvisable to hire your cousin to shoot your wedding, you know?
Video wall
An event productions company like Meeting Tomorrow can help install and program a 5×5 iPad video wall for a mid-price "smart wall" feel. We were able to find quotes in the $2K/day range for these dynamic installations.
Large event budget, sophisticated needs
When your event budgeting plan has a few more zeroes attached,  you can afford to explore cutting-edge, crowd-wowing tech installations, tools that memorably streamline the experience, and a fully branded multi-sensory atmosphere.
Multiple camera live recording/projection
If you've ever seen a recorded Ted talk, you know what a multi-camera shoot looks like. You'll need more than one camera operator, and a production technician if you want to mix the multiple cameras live on a big screen.
RFID technology
With more event budget to play with, you can take advantage of engagement and measurement features like RFID wristbands. These chip-embedded bracelets serve to grant entry to an event and allow an attendee to interact with attractions, make purchases, and share contact info. From an organizer's point of view, RFID technology can generate valuable data about how attendees move throughout the space and experience the event, can act as security (granting access to VIP areas only for certain ticketholders).
Analyzing attendee behaviors can be immensely valuable–this is the kind of big data marketers have been using to track behaviors on websites for years.
Suppliers like ShowClix can provide bracelets, RFID chips, and the technology needed to use them. Depending on event size, you could be paying $20/attendee on the low end. Once you get into customizing the bracelets and the way they're used, the price increases. (Note: the cost of the RFID chips themselves are minimal: they can be as little as 10 cents apiece wholesale. Our cost estimates include quotes for managing the entire system.)
Now that your event budget is all figured out, how about getting started on that event mobile app? Check out all the features you can have on the Guidebook platform. Request a demo below!